Blog
Hello, girls: Jana Havlová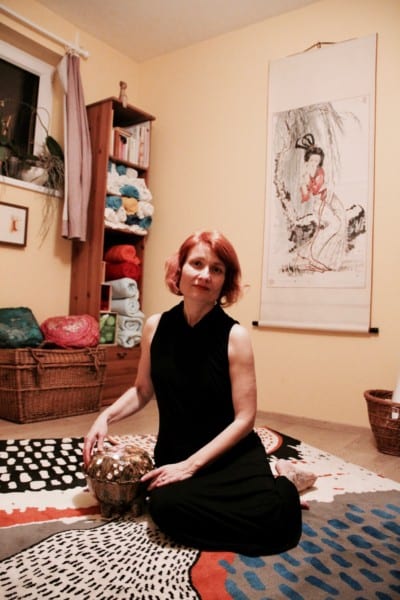 "I don't see myself as an artist…I don't like the word "artist" ….it's like being labeled. I just love the sense for life. I have a garden, where you can see a beautiful summerhouse and what I like is those earthworms coming out after a rain", says Jana Havlová, who is dedicated to ceramics, that she also teaches at her studio based in kitchen. I'm glade that children and adults are coming to my house. It was actually very significant for my Japanese students to invite them into my house". She laughs and call her class "ladies ceramic club in the kitchen with one man". She also likes to dance salsa and give massages.
I found myself on a journey of tea, it's Japanese tea spiritual ceremony. The principle is: do yourself a cup of tea and drink it. I revel in choosing a flower as a decoration, a dessert … it's kind of a ballet. It makes me happy that I prepare tea for you and you are happy that I think of you while doing your tea. There is reciprocal energy – making it with heart and opening your hearts and feeling the love. When one embarks on a journey of tea and it really gets into it, it became a lifestyle. I just started, but I feel that this is it! My journey for the rest of my life. And in the autumn, I will visit Japan, where the Ceramic Triennale in Mino – International Festival of pottery will be held. "
I have been searching him my entire life. I had children, job, money, all of that. But there was one thing I have been missing – an understanding and loving partner. I have been looking for true love. At the moment I cease to search, I found him, or he found me. Our relationship was very strong, very intensive. But I had a strange feeling that it will not last long. We married. And half a year later went the hit below the belt. Fortunately we spend the last month together at home so we could told to each other everything we needed. It was like spending 40 years together. There was not only the fear and pain, it was often cheerful. Yes, it was intensive, painful, horrible, terrifying, exhausting, but beautiful.
I'm newly fifty years old. Solitude doesn't bother me. And when I'm sad, I paint my nails and I feel better. If I could experience my life again, I would be 35 years old again, not younger! Before 35, I took everything too seriously. But it is alright, it brought me here. Now I hope that I'm more magnanimous and I'm not pointlessly dealing with trivialities. I wouldn't change a thing. I would only prolong the time I got with Jirka.
Jana in a skirt, which is petticoat to the green wedding dress, we created from silk
I have been asking myself what will I do now, what will push me. I was a daughter, mother, wife, girlfriend, but what now? Well I wasn't famous yet!
Back to blog