Collection
Fall – Winter 2019/2020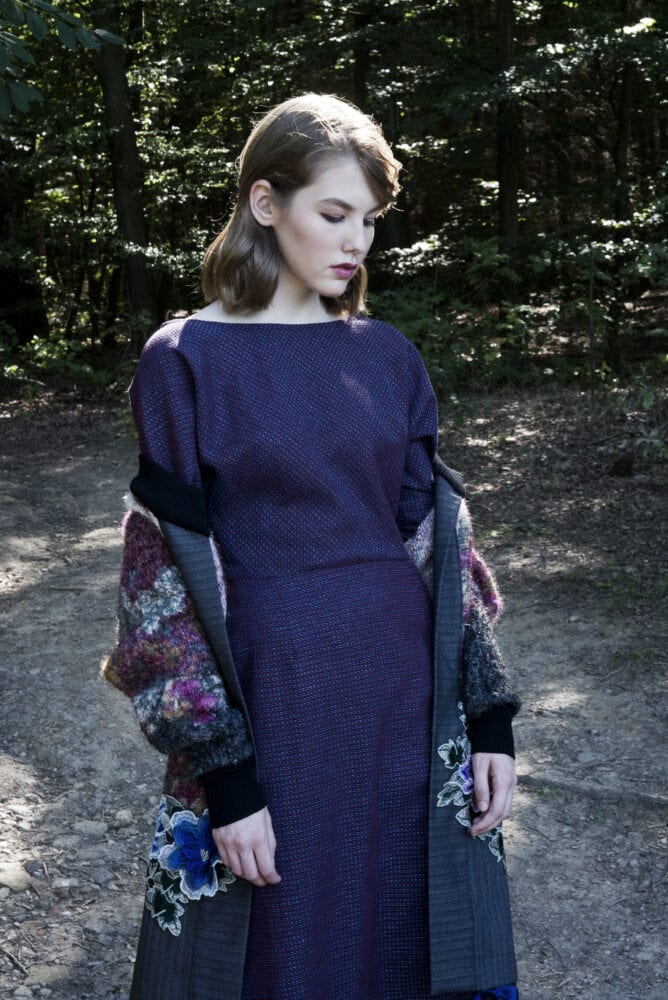 In the FW19  collection, La femme Mimi balances the cold winter with memories of summer
In the autumn and winter collection by La femme Mimi, the seasons of winter and summer balance each other, as do old and new materials or simplicity with patterns. In the collection, designer Mimi Lan gave upcyclics a second chance, especially for soft and warm sweaters, which hug us faithfully on cold autumn and winter days, and complemented them with spring accents.
In the autumn and winter season, the La femme Mimi brand features a combination of ethnic graphic and romantic floral color patterns or embroidery with muted monochrome surfaces in natural earthy tones. Inspired by places of spiritual and geographical significance, the designer was almost literally carried away, especially when choosing materials. Just as the snow-capped Atlas Mountains and the heat of Western Sahara, along with overgrown oases of the interior, mingle in oriental Morocco, Mimi Lan Nguyen draws with fascination and humility from the diverse properties of seemingly incompatible materials, colors and cuts.
In this love triangle, materials or fragments from previous collections or quality second-hand pieces also traditionally gain space. "In each of my collections, I try to point out the underestimation of quality materials and pieces of clothing that would not normally get a second chance. This is why, for example, a kimono of our classic cut decorated with a used bag of Vietnamese rice or a quality branded sweater complemented by hand-carved ivory buttons, which will warm up similarly to the uniqueness of a meadow flower in high mountains, "says Mimi Lan Nguen.
Wool coats and kimonos or wrap dresses balance each other with skirts, turtlenecks or silk tops, which they warm in winter and cool in summer. Customers will also be able to remember the flowering romance in the peaceful winter with colorful belted sweaters, silk skirts, overalls or embroidery decorated with collars. In the collection, it will be possible, as usual, to discover seasonal one-color variations of wrap-around and fitted dresses made of wool or turtlenecks made of silk knit, shirts or wide trousers.
Designer & Stylist: Mimi Lan Nguyen Hoang
Photographer: Adéla Leinweberová
Model: Kateřina C. / Ely management
Hair & MUA: Žaneta Gi
Backstage photographer: Thu Huong Truong
Special Thanks to Olga Bureš Vrbikova